Teatime Tunes' with Glenn Bassett (aka 'My Mate George')
October 21, 2022 @ 2:00 pm

-

3:00 pm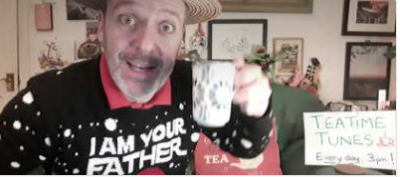 Glenn is from London, UK. He sings and plays guitar. 'Teatime Tunes' is all about joining in and singing along (and maybe having a nice drink and snack too).
Glenn has a repertoire of over two thousand songs from a variety of genres, and the audience can choose the setlist!
Sinatra or the Stones, Elvis or Abba, Sam Cooke or Jim Reeves, Doris Day or Bob Marley,
Glenn always plays to get people dancing, singing and laughing.
There are no headsets or microphones — Glenn creates the feel of sitting in the same room and enjoying each other's company. Chatting, joking and reminiscing are an important part of his live sessions.
It's all about atmosphere and mood.
As Maya Angelou said: "People never forget how you made them feel."
To see Glenn in action, go to youtube.com/mymategeorge where you will find plenty of his recorded Teatime Tunes, one for each day of the year!.
Please fill out the post-program survey found here –
https://www.surveymonkey.com/r/FP9FKX9