Launched from Italian shipbuilder Fincantieri's Marghera shipyard in Venice on July 4, 2010, the 86,000-ton Nieuw Amsterdam celebrates the glamour and history of New York City, formerly called Nieuw Amsterdam, with its inspired interior design and art collection.
Holland America Line has installed an array of works valued at over $3 million, ranging from antiques by traditional Dutch masters to creations by renowned contemporary artists. Some pieces reflect the Dutch Golden Age while others, such as the spectacular centerpiece in the atrium, express a contemporary curiosity. Adorning the ceiling of Nieuw Amsterdam is an eye-catching abstract sculpture of the inverted New York skyline made from clear translucent blocks that hang upside-down. The sculpture was created by husband and wife Italian artists Gilbert Lebigre and Corinne Roger of Creazioni Lebigre & Roger. The significant collection, which includes works by celebrated artists Andy Warhol, Richard Estes and Roy Lichtenstein, continues with astounding displays throughout the ship.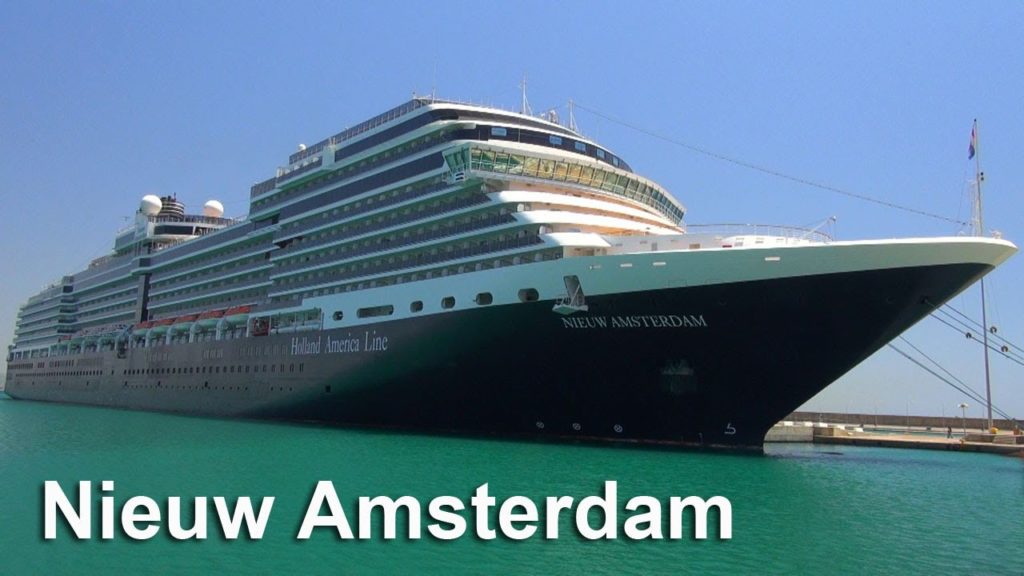 A complimentary self-guided iPod® art tour is available for guests wishing to view the entire collection. The iPod art tour is also available to download at no charge on iTunes®.
Nieuw Amsterdam joins the recently launched Eurodam to further define and expand the Holland America Line premium brand with new concepts such as the innovative pan-Asian Tamarind restaurant and Silk Den lounge surrounded by panoramic views overlooking the ocean expanse and the Lido pool. Other additions are an Explorer's Lounge Bar, a premium wine-tasting lounge, an elegant luxury jewelry boutique, new atrium bar area, enhanced and reconfigured The Showroom at Sea, and a new photographic and imaging center.
The new ship continues several much-admired Holland America Line features, including outside-view, glass elevators at midship; the Explorations Café — a cyber-coffee house powered by The New York Times; the Pinnacle Grill and Pinnacle Bar; the innovative Culinary Arts Center presented by Food & Wine Magazine, where culinary experts provide cooking demonstrations and intimate classes in a state-of-the-art onboard show kitchens; an expanded Greenhouse Spa and Salon with thermal suites and hydro-pool, the largest gymnasium ever built for Holland America Line; and a youth facility that includes the teens-only Loft. In addition the ship will feature the family-style Canaletto Italian restaurant.