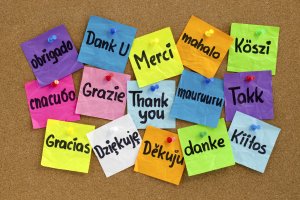 Practicing Gratitude – Charlotte Today – 11/27/19
I HAVE A KEYNOTE SPEECH I give to groups that I presumptuously call "The Meaning of Life." It contains eight life lessons that we actually all know but don't always practice. Every lesson features a personal story, a song and actual research that backs up the claim. The eye-opener is that every story comes from an older person I've encountered in my many thousands of singing performances in nursing homes. Yes, the people that we often think of as being in the worst possible places can teach us a lot about life.
One of these eight points has consistently stood out from the very first day I walked into a care home: gratitude. Yes, gratitude. You would think that seniors in nursing homes, faced with medical ailments, loneliness and more would be miserable and angry. Some are. Most are not. During a season of Thanksgiving, what better topic to tackle than gratitude?