SIBLING RIVALRY – SOLVING FAMILY DISPUTES WHEN CARING FOR OLDER LOVED ONES
Family disputes over elderly parents are more common when multiple children are involved. Siblings may be wondering how to protect the money of elderly parents from a financially dependent brother or sister.
Relationship tensions may escalate if an adult child living with parents becomes overbearing or controlling. One sibling may be taking on the load and not receiving help. How do you juggle these responsibilities and tensions?
The Issues
There are potentially two kinds of situations that develop. Assistance with care and the potential abuse of loved ones by a sibling.
A sibling may say they have no time to help. There is an insinuation that the primary caregiver has all the time in the world. Primary care providers (mostly women but a growing number of men) often have to quit jobs or face obstacles from their employer. We have covered many times the issue of caring for the caregiver as many caregivers put themselves and their wellbeing last.
Siblings may say they can't afford to help. There is validity there. Family caregivers are usually not paid. This affects their current and future financial state. If you are not paying into Social Security (U.S.) then your retirement may be underfunded.
Another "excuse" is not being able to bear seeing mom and dad in that condition. Well, they have probably seen you in dire straits at some point and were likely there to help.
Often you end up with one sibling stepping up. But is it the right one? When one caregiver lives with a loved one or is close by, there is potential for abuse – physical and financial.
How to Ask for Help
Be direct with your requests to your siblings. Implied requests or subtle hints are not sufficient for siblings to realize that they should step up. If they have never cared for an older person, it may be hard to understand and anticipate a caregiver's or senior's needs.
Sit down and create a list of realistic tasks. Divvy up responsibilities according to each person's strengths. Let them choose what they want to tackle.
Keep everyone in the loop. There are now websites that let family members collect all the information in one place. Convene regular family conferences.
If you are being ignored, you have to move on and seek out other sources of help.
Most importantly, find a balance between caring for your parent and maintaining your own well-being.
Solving Disagreements
What if siblings disagree on the care for mom or dad? Siblings may argue about paying for care or how much care is needed. An outside opinion can help. Arrange for a geriatric care manager to assess the situation.
Consult your parent's primary doctor about recent deterioration and developing physical challenges. Neighbors may be noticing something. Even postal workers, contractors, delivery people could be observing signs.
Consider a mediator. Sometimes a neutral third party is the only way to calm the situation. Consider the National Family Caregiver Support Program or your local Area Agency on Aging. A doctor or geriatric care manager can also mediate.
Signs of Trouble
Sometimes one child takes over the caregiving role and leaves other family members in the dark, perhaps even limiting access to the elderly loved one. If your sibling is acting as a gatekeeper and prevents you from reaching your parents, there may be abuse or exploitation involved.
Here are some telltale signs:
Unexplained signs of injury
Reports of drug overdose or apparent failure to take medication
Signs of being restrained
Unusual weight loss, malnutrition, dehydration
Unsafe living conditions.
Your aging parent may be the obstacle too, threatening or attempting to manipulate you when the topic of outside care is broached. Recognize this as a sign they need professional help. This can lead to a divide between siblings who want to follow their parent's wishes and those who know it isn't feasible.
You may find that the parent you've been close with your entire life is physically threatening or verbally abusing you, and your siblings won't believe it's happening.
Of course, there is the potential for financial abuse. That is why it is important to plan before the crisis.
Budget for long-term care needs.
Consider long-term care insurance.
Write a will.
Complete a living will that specifies end-of-life wishes.
Appoint powers of attorney, or durable powers of attorney, to carry out your wishes.
Know about inheritance and estate issues in mom or dad's state/country in advance.
Do estate planning.
At the end of the day, a lot of this comes down to simple communication and transparency issues. It was pretty straight-forward for me as I was the only child left to care for mom, my sister pre-deceasing her. My wife had three siblings all working together for the care of her mom and dad before they passed.
What about you? Are you facing sibling rivalry in the care of mom or dad? Are old, long-standing relationship issues surfacing? How do you handle them? Please share any helpful tips that may help our community tackle sibling issues.
Let's Have a Conversation!
BEYOND BINGO: MAKING OLDER ADULT ACTIVITIES MEANINGFUL WITH LIVE STREAMS
(from Sixty and Me)
My friend and colleague Gloria Hoffner, creator of Science for Seniors, is a one-woman crusade against Bingo in senior living. It's not that there is no place for it in senior living activities, it's when it becomes the only and all-consuming activity a community has to offer. Sort of like my mom's community, which held bingo three nights a week when she was there.
I spoke with Gloria as part of my Caregiver Smile Summit. "Your brain will continue to grow and improve as long as you feed it new information. It's when you stop feeding it new information that you're in trouble. If you do the same activity over and over and over, your brain only knows one way to go," she says.
The brain is resilient. It has been shown to rewire itself when damaged, say, after a stroke. As Gloria notes, "it's kind of like Waze in that, when faced with a roadblock, it will provide new information to get around the traffic."
Pandemic as the Roadblock
Well, the pandemic has certainly put up the mother of all roadblocks when it comes to trying to address meaningful activities for older adults, especially in community settings.
Most of society has coped socially and mentally by turning to live-streaming. Senior living not as much. Some places do not have the bandwidth in terms of technology. Others simply are so concentrated on the pandemic, they do not look at new ways to augment activities – even if the activities can actually make their jobs easier. It's one reason I started Sage Stream, the Senior Entertainment/Education Network..
Here is the knock about live-streams in senior living. It's no better than putting residents in front of a TV and watch a You Tube video. There is very little interaction involved which offers little in social, mental, and physical benefits.
Overcoming the Roadblocks
Certainly, you have to have technology and bandwidth on either side of the interaction to make live streams work. Here are some things I do to make sure the experience is meaningful:
Before the broadcast, take song requests and do the most popular selections of the group.
Likewise, ask for milestones of the residents – birthdays, etc. – and do "shout-outs" during the program.
In intimate live-streams like Zoom, have actual conversations with people.
In large events, use the chat function to communicate.
Send any program materials in advance via post or download.
Create an Element of Surprise and Add Diversity
Part of our Network offerings includes a live-stream calendar of events that people can purchase on a subscription basis or individually. The beauty is that on any given week, we change up the roster of people. So we add an element of surprise.
And because we are international in our scope of attracting artists, you open yourself to a world of new possibilities and no longer have to rely on just your local group of entertainers that you routinely used pre-pandemic. And those entertainers in turn can join the Network and be exposed worldwide as well.
People's Occupation Before Coming into a Community Was Not "Retired"
It is easy to stereotype all older adults as pensioners or retirees because when they present themselves in senior living, that is their status. However, they had careers and interests their entire life.
"My residents never stop being curious," says Gloria. We have to recognize the intelligence level of our older adults as well as what they are capable of mentally and physically. Gloria jokes: "When we wake up in the morning and as good as exercises are for you, I don't know anybody who says I can't wait to get up tomorrow morning and play balloon volleyball."
Point taken. That is why Gloria's Science of Seniors is such a big hit and why she is such an integral part of our Network.
Gloria explains: "I never questioned activity directors deciding who should come to my program. But some assumed that they would segregate people on what they thought they wanted. So they let the men attend the science program and had the women scrap-booking. After two months of this, the women would roll themselves away from the scrap-booking table and into the science class." Then they brought friends.
The point to all this? Older adults are open to new ideas and experiences, like live streams. It can be through the variety of experiences you expose them to as well as the technologies you use to deliver those experiences.
Listen to my interview with Gloria here.
How about you? What activities do you plan with a person you care for? Do you do live streams for an older loved one? What interesting activities have you seen older adults show interest in – both in senior living facilities and when cared for individually?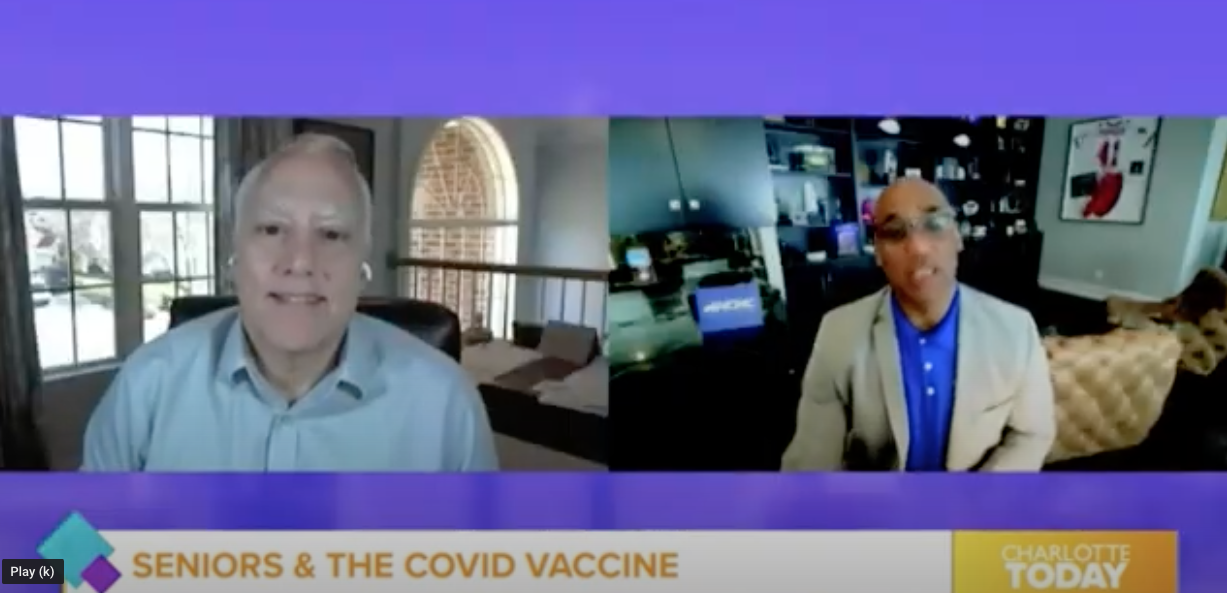 Older Adults and Vaccinations – How Are We Doing? – Charlotte Today
The data is quite good. As of mid-February, about 14% of the US population received at least one dose of a COVID-19 vaccine. Among adults 65 and older, the vaccination rate is about 41%. People over 65 account for more than half (54%) of all people who have received at least one COVID-19 vaccine dose to date. As of 2/23, NC shows 49% of 65+ having one dose.
The real worry to me is healthcare workers and essential workers, particularly long-term care. 33 percent of essential workers and 29 percent of those who work in a health care delivery setting indicated that they would not get the vaccine. That sends the wrong example. If you're not getting it, why should I?
You cannot completely open up our assisted living and nursing homes if those who work in them do not get vaccinated and then of course those who visit, family caregivers have to be accounted for as well. Check out the segment.